Our regular membership meetings are held the third Tuesday of the month (Sept.- May) at 7:00 PM in the community room of the Sedona Public Library, 3250 White Bear Rd., Sedona, AZ.
Meeting activities include guest speakers with interesting and informative programs, raffles, displays, wonderful cookies, and comraderie with friendly fellow rockhounds. Other club activities include exciting monthly field trips for many different rocks, fossils, and minerals, and a spectacular annual rock show held every October with a wide selection of vendors and materials to choose from, plus games for kids and and fantastic raffle prizes to boot! 
Also, excellent classes in a variety of subjects are available to members for a small fee.  Download Newsletters.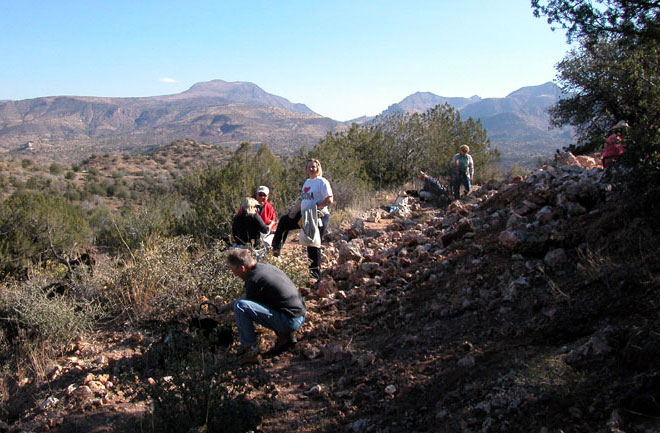 President: Mark Moorehead 
Past President: Marge Schwartz 
1st Vice President (Presentations): Evelina Dunton
2nd Vice President Dave Maple
Treasurer: Bill Schwartz
Secretary: Diane Smith
Director: Pat McMahan
Director: Tom Helgesen
Field Trips: Dave Maple 
Membership & Classes: Marge Schwartz
Historians: Ted & Barb Schultz
Education: Mark Moorehead
Raffle: Tom Helgesen
Refreshments: Amy Koba
Newsletter: Galen Worthington
Webmaster: Patti Polk
Social Chair: Angie Maiorano
If you have any questions about our club, please contact us by filling out the form below.
As a member of the club you will receive the Sedona Gem and Mineral Club newsletter filled with information about monthly field trips, program speakers, and events. The newsletter is published during the months of January to May and September to December. If you have questions or comments about the newsletter, contact Galen Worthington, our newsletter editor.
Download our application form HERE and mail it to us at:
Sedona Gem and Mineral Club
PO Box 3284
Sedona, AZ  86340